Cash announced for central belt green space development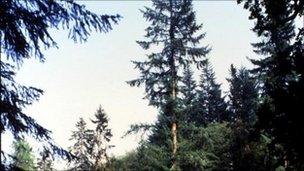 A six-figure funding package to help kick start the delivery of green spaces across the central belt has been announced.
Seventeen projects across the central belt will share £362,731 from the Central Scotland Green Network (CSGN) Development Fund.
The funding is administered by Forestry Commission Scotland.
The projects will help the CSGN to achieve its aim of increasing woodland cover by 50%.
It also wants to improve the landscape and regenerate derelict and vacant land, while also creating more outdoor recreation opportunities for local residents and visitors.
Among the projects awarded funding are:
the Lothian and Fife Green Network Partnership which has received £32,288 to develop a Pentland Hills Woodland Strategy
a Glasgow City Council Riverside Management Plan for the Clyde has received £50,000
RSPB Scotland has received £15,000 for habitat restoration and management along the Inner Forth
Other bodies to have won funding include the East Dunbartonshire, South Ayrshire and Clackmannanshire Councils and Central Scotland Forest Trust.
The CSGN stretches from Ayrshire, Inverclyde and Dunbartonshire in the west through to Fife and East Lothian in the east.
Environment Minister Roseanna Cunningham said: "The range of projects is ambitious and each demonstrates the willingness of all of these agencies to roll up their sleeves and commit to the challenge of delivering a greener, stronger, healthier central belt.
Keith Geddes, chair of the CSGN Partnership Board said: "These awards will act as catalysts to begin work on many projects which will be of immense value to local communities. They will make a major contribution to biodiversity and a greener central Scotland."
Related Internet Links
The BBC is not responsible for the content of external sites.