Forensic examination continues in child deaths probe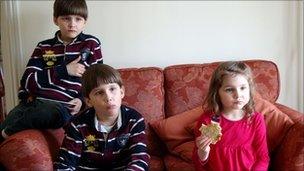 Police in Edinburgh are continuing the forensic examination of a flat in which three children were discovered dead.
Eight-year-old twins Luca and Austin Riggi and their sister Cecilia, five, were found after a reported gas explosion and fire at the Slateford Road property.
Their mother Theresa was hurt when she fell from the townhouse-style building.
Police are treating the deaths as suspicious and plan to speak to Mrs Riggi, 46, when she is well enough.
It is understood the three youngsters did not die as a result of Wednesday afternoon's suspected explosion and small blaze.
Post-mortem examinations are due to be carried out on the children, who were at the centre of a custody battle between their US-born parents, Mrs Riggi and her husband Pasquale.
Police have said the results of the post-mortems would help them determine whether to launch a murder inquiry.
Det Supt Allan Jones said it was too early to determine the children's cause of death.
He explained that Mrs Riggi and her children had been traced to the Edinburgh address after they were reported missing from the family home in Skene, Aberdeenshire, at the beginning of July.
Mr Jones added: "The family had been in the city for a few weeks and we are keen to speak to anyone who knew them during that time.
"We are not in a position to speak to the woman yet and we will take advice from her doctors as to when that can happen.
"We would like to do that to get a true background to the events of yesterday and find out exactly what happened within the house."
The children's father has been interviewed by police in Aberdeen, but is said not to be a suspect.
Mr Jones said: "He's heartbroken but he's very composed. He realises he holds a lot of central information that we need. We're conscious of the trauma he's gone through."
Mr and Mrs Riggi were going through divorce proceedings and the case was due to be called at the Court of Session in Edinburgh on Tuesday.
Mrs Riggi did not appear at the hearing, and judge Lady Clark of Calton was told that her whereabouts were once again unknown.
David Jack, counsel for Mr Riggi, told the court: "I think there is a real emergency in this matter," and asked for an order to safeguard the children's interests.
Lady Clark agreed to grant a warrant allowing Messengers at Arms to search for Mrs Riggi. She also said that social workers should then supervise the children, applying to a local sheriff for child protection orders if they thought necessary.
The Riggi family are originally from the US and still have relatives there.
The children were being home schooled before their deaths, but an Aberdeenshire Council spokeswoman told BBC Scotland on Thursday: "The arrangement to have home schooling was set up without the knowledge or involvement of Aberdeenshire Council".
The emergency services were called to what was first thought to have been a gas explosion in Slateford Road shortly before 1500 BST on Wednesday.
When they arrived, they found a woman lying injured in the street. There were reports that she had jumped from a balcony. An ambulance took her to Edinburgh Royal Infirmary.
The local gas supply was isolated as a precaution, and Scotland Gas Networks engineers were sent to the scene. It was later confirmed that there was not a fault with the gas supply to the flat.
Several foreign students living in the terraced block said they believed the injured woman lived in the property with her three children, and that they were newcomers to the building.
Omar Barifah, 20, a student, told BBC Scotland he had heard a noise "like a shooting gun".
He added: "It felt like a big bang - it was absolutely frightening and I had to take my little brother, and his friend who was sleeping and woke up because of the noise, and we ran out of the house.
"We saw a woman lying on the ground. She was covered by a sheet, then she was taken in an ambulance and we were asked to move to a safer area."
A spokesman for Lothian and Borders Fire and Rescue said: "Two fire appliances and a turntable ladder attended at the address, a three-storey modern townhouse. Two firefighters wearing breathing apparatus extinguished a small fire on the first floor of the building."
The spokesman said there was "no significant structural damage to the building" and confirmed that the fire was extinguished very quickly.