Scottish Viking ferry inspected after trawler crash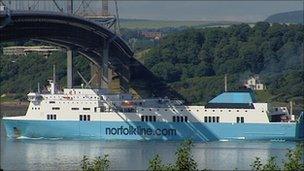 Officials have been inspecting the ferry involved in a collision with a prawn boat which left a 16-year-old fisherman missing in the North Sea.
The search for Daniel McNeil, from Tynemouth in North Shields, has been stood down. He was on the trawler with his brother, who was pulled to safety.
The Belgium-bound Scottish Viking ferry and the trawler collided five miles off the Berwickshire coast on Thursday.
Coastguard and marine accident officers were in Fife for the vessel's return.
A Maritime and Coastguard Agency (MCA) enforcement officer was examining the ship, as part of the agency's investigation into whether there was any breach of the Merchant Shipping Act.
The MCA said the outcome of that investigation was likely to take "days or weeks", and would inform any decision on whether a police investigation was necessary.
Statements have been taken at the port in Rosyth where the shipped docked at about 1600 BST, some two hours later than its scheduled arrival.
A survey of the vessel's structure, equipment and documentation was carried out by Belgian authorities when it arrived in Zeebrugge on Friday.
The ship, which was chartered by Norfolkline from Italian firm Visentini, would not have been allowed to sail back to Scotland if it had not passed that inspection.
More than 20 fishing vessels and lifeboats were involved in the search for the teenager, who was on board the Homeland trawler with his 20-year-old brother.
The official search has been called off, but it is understood family members and local fishermen were continuing the hunt.
Related Internet Links
The BBC is not responsible for the content of external sites.