TV dance troupe Flawless in 'clever' Fringe move
By Angie Brown
BBC Scotland, Edinburgh and East reporter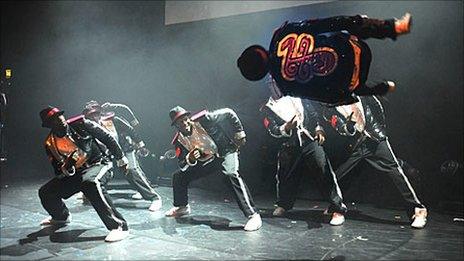 The Edinburgh Fringe has, for years, been a place where emerging talent can showcase skills in their bid for TV stardom.
Hundreds of up-and-coming actors and comedians such as Emma Thompson, Jimmy Carr and Al Murray started their careers at the world's biggest arts festival.
So why would a street dance troupe who have already performed for a TV audience of millions chose to perform a string of 25 shows in front of small audiences during the Fringe?
Flawless, a group of 10 dancers from North London, reached the finals of Britain's Got Talent in 2009.
They were even hailed by judge Simon Cowell as being "one of the best things I have seen in my life".
The dancers have had a starring role in the hit film Street Dance 3D and won the UK Dance Championships in 2005, as well as the World Dance Championships in 2006.
After performing in front of an audience of 15 million TV viewers they then went on the Britain's Got Talent Tour.
So some might be forgiven for thinking they were taking a backward step bringing their hour-long show, entitled Chase the Dream, Not The Competition, to Edinburgh's Udderbelly, which holds just 410 people.
Marlon "Swoosh" Wallen, 26, Flawless choreographer and member, told the BBC Scotland news website they wanted to showcase their first hour-long performance in the run up to their UK tour, which starts in September.
He said: "We have been around the world performing at many great events but it has only ever been for 10 minutes at a time, which is not long enough to show off all our different styles and abilities.
"So we wanted to see what reception we would get from our first hour-long show.
"We had been told about the great vibe at the festival and thought it would be a great place to showcase our talent live to audiences.
"We didn't know how performing a show every day for a month would go but thankfully we have sold out every day, it has been phenomenal."
The dance troupe, who have been together for five years, have gone from practising their moves in local parks and each other's living rooms to now working out routines in a studio.
They spent eight "intensive" weeks honing their show and eating high protein diets.
Marlon added: "It's been a clever move coming to the festival because it has meant we have been able to personally meet our audiences.
"The moment you look down on something, ego gets the better of you.
"We have always been the same people, we are humble and we will definitely come back to perform in the festival in the future."
An Udderbelly spokesman said: "By producing Flawless at the festival we are attracting a new audience that has probably not been to the festival before.
"And after seeing Flawless they will definitely be back."
Related Internet Links
The BBC is not responsible for the content of external sites.