Whisky 'petrol' for cars developed by university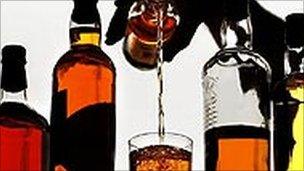 Edinburgh Napier University has developed a new biofuel made from whisky by-products.
It is the result of two years work by the universities biofuel research centre.
The £260,000 project was funded by Scottish Enterprise's Proof of Concept programme.
It has been welcomed by WWF Scotland's director Dr Richard Dixon who said it would help a "clean environment" industry to reduce transport emissions.
As part of the research, the centre was provided with samples of whisky distilling by-products from Diageo's Glenkinchie Distillery in Edinburgh.
The team focused on the whisky industry to develop biobutanol, the next generation of biofuel which gives 30% more output power than ethanol.
It uses the two main by-products of the whisky production process which are "pot ale", the liquid from the copper stills, and "draff", the spent grains.
Each year the whisky industry produces 1,600 million litres of pot ale and 187,000 tonnes of draff.
Unlike ethanol, the nature of the innovative bio-fuel means that ordinary cars could use the more powerful fuel, instead of traditional petrol.
The university plans to to take the new fuel to market in the bid to make it available at the pumps.
Director of the biofuel research centre at Edinburgh Napier University, Professor Martin Tangney, said: "The EU has declared that biofuels should account for 10% of total fuel sales by 2020. We're committed to finding new, innovative renewable energy sources.
"While some energy companies are growing crops specifically to generate biofuel, we are investigating excess materials such as whisky by-products to develop them."
Lena Wilson, chief executive of Scottish Enterprise, said: "By proactively taking innovative ideas from the laboratory to the global market place, Scotland can continue to compete at the highest level and successfully boost its economic recovery."
WWF Scotland's director, Dr Richard Dixon, said: "Last year the whisky industry published plans to help lower its impacts and it is clear that this scheme could assist them in doing just that.
"Since the whisky industry relies on Scotland's clean environment for its main ingredients it would be great if the industry could help Scotland reduce its emissions from road transport."
Related Internet Links
The BBC is not responsible for the content of external sites.