Gordon Brown to walk for water charity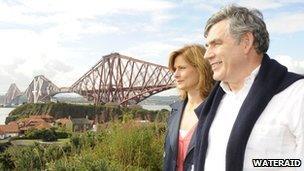 Former prime minister Gordon Brown will take part in a charity walk to raise funds for some of the world's poorest people.
Mr Brown and his wife Sarah are supporting WaterAid's Coast Along initiative on 11 September.
The aim is to improve access to safe water and sanitation in poverty-stricken parts of Africa and Asia.
Mr Brown said it was "simply unacceptable" that poor sanitation kills 4,000 children every day.
Coast Along aims to get at least one team of walkers on 187 coastal paths in selected regions throughout Scotland, England and Wales.
Participants are asked to raise a minimum of £50 in sponsorship for their walk.
Mr Brown will walk along a coastal path in his Kirkcaldy and Cowdenbeath constituency.
A charity spokeswoman said the distance walked by most participants will be similar to the daily trip taken by millions of women and children in search of water in poorer parts of the world.
Mr Brown said: "Access to safe sanitation, clean water and good hygiene not only vastly improves the health of communities, it also lifts them out of poverty.
"Without the burden of illness or the need to walk miles each day just to collect water, adults are free to earn a living, children to go to school and all can look forward to a brighter future."
Related Internet Links
The BBC is not responsible for the content of external sites.