Lockerbie story brought to life at Fringe
By Angie Brown
BBC Scotland, Edinburgh and East reporter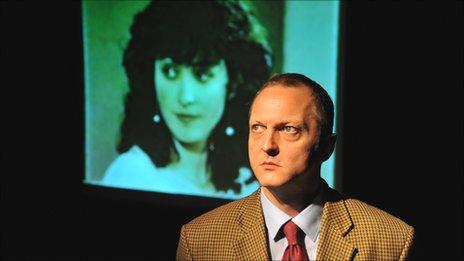 It was during the furore surrounding the release of Abdelbaset Ali al-Megrahi, the only person convicted of the Lockerbie bombing, that actor David Benson decided to create a play about the 1988 attack.
It was almost a year ago, near the end of the Edinburgh Fringe, when the negative criticism of releasing the Libyan from jail on compassionate grounds annoyed the 48-year-old.
Benson was spurred on by these feeling to contact activist Jim Swire, whose 24-year-old daughter, Flora, was killed when the Pan Am Flight 103 exploded over the Scottish Borders in December 1988.
Dr Swire also believed Megrahi had been wrongly locked up for the bombing, which killed 270 people on board the flight.
There was a note on Dr Swire's website, which said he had written an account of his life since that fateful day, which had not yet been published.
So Benson had him email him a copy and he read it with "enormous interest".
He said: "I thought it was an extremely good account, very compelling not only because it gives you all the meticulous factual detail about the background of the case and the trial, it also gives a real insight into Jim Swire's own personal story.
"It lets you feel what it's like to be in the position of being at home a few days before Christmas and knowing your daughter's on a plane to New York to see her boyfriend and then suddenly seeing the news that a plane has gone down."
The pair agreed to meet half way between Dr Swire's Cotswold home and Benson's in London at the Shakespeare Hotel in Stratford.
Benson was "very nervous" about the meeting because he said it was a "massive responsibility" to undertake writing such a show.
Over tea and buttery-toasted teacakes they spent an hour-and-a-half in the hotel's reception area talking.
Benson said: "It was a very formal meeting and we were dressed smartly. I was very nervous and I'm sure he was too.
"He answered all my questions but he seemed some what suspicious of me at first because I did say to him, 'Dr Swire you probably don't know me but I'm best known for doing a show about Kenneth Williams.'
"I wanted him to know I was a serious writer and performer though so I told him about the very dark side of Kenneth Williams and also about my mother who has schizophrenia and how I am interested in how humans tick - as all artists are.
"He realised I was well briefed and had done my research and so he told me everything very meticulously, covering every aspect, he was very honest.
"He has a softness of speech and a quiet intensity.
"He ended the meeting feeling assured I would do a good job and I was grateful to him for trusting me."
The one-man show, Lockerbie: Unfinished Business, at the Gilded Balloon, is in the form of a lecture given by Dr Swire, whom is played by Benson.
During the 70-minute-show Dr Swire's view point over Megrahi is made clear: "The scandal is not that he was released but that he was ever imprisoned in the first place."
We hear how Dr Swire made the "terrifying" trip to meet Libyan leader Colonel Gaddafi in December 1991 and how the bunker of a room they were in had armed female body guards.
The play shows the two sides of Dr Swire.
Benson said: "Dr Swire feels an intense rage about what has happened and the way he and the other families have been treated by the authority.
"He feels these strong emotions and then he channels that as his fuel to go into the campaigning and when he is campaigning he has to wear an emotional suit of armour.
"And so that's what happens in the show, you go from very, very intense emotional material to fact, fact, fact."
So why is Dr Swire not visiting Edinburgh to see the show?
Benson told the BBC Scotland news website: "I was performing a preview of the show in Oxford and I didn't know Dr Swire was in the audience.
"There was a knock on my dressing room door afterwards and there he was with his wife, Jane.
"I nearly hit the floor in astonishment. He was extremely enthusiastic about the show and gave me a big hug."
George Wilson, 69, from Fochabers in Moray, said: "I thought the show was terrific and I wish more people could see it. I've been interested right from the start and watched the whole trial. I couldn't believe the verdict. A Scottish jury would never have given that verdict."
Peter Weir, 66 from Edinburgh, said: "I thought the show was excellent. I thought he gave a very convincing argument for the case against the others still being at large."