MSP George Foulkes will quit Holyrood for Lords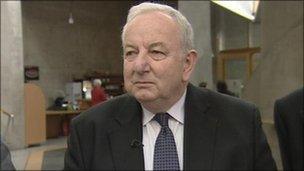 Labour MSP George Foulkes has announced he is to quit Holyrood in favour of the House of Lords.
Lord Foulkes said he would not be standing in next year's Scottish elections.
He was elected to the Scottish Parliament in 2007 and also previously served as an MP.
The Lothians MSP has said he has made it clear that his name is "not to go forward even for an allegedly 'unwinnable' seat".
He plans to focus his political efforts on his role in the House of Lords.
Lord Foulkes said: "I intend to join the growing group of Labour peers who believe we must mount an even more robust campaign in the Lords against a ConDem coalition which is increasingly arrogant and insensitive.
"Up until now, Holyrood has, for various reasons, disappointed some of us who were among the founders of the institution."
He added: "I see among the new candidates being selected for all parties great hope for the future and the opportunity for it now to really fulfil its potential."
After Labour won the 1997 general election he was made a junior minister in the Department of International Development before later becoming Minister of State for Scotland.
Labour Holyrood leader Iain Gray said Lord Foulkes would be "sorely missed not just by the Labour group but by the Scottish Parliament itself".
Mr Gray added: "He brought a wealth of experience to Holyrood from his years at Westminster and in government. He was a combative campaigner and unrelenting in pursuing a cause he believed in or holding the SNP administration to account."