Passenger ferry service from Rosyth to Zebrugge to end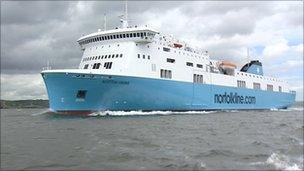 Scotland's only direct passenger ferry service to mainland Europe is to be scrapped, it has been announced.
Route operator DFDS Seaways, formerly Norfolkline, has blamed insufficient passenger demand for the move.
However, it will continue to offer a freight service, using two vessels rather than one, on the route between Rosyth and Zeebrugge in Belgium.
The passenger service will continue until 15 December, with passengers booked after that date being refunded.
Fife Council leader Peter Grant said he was disappointed that DFDS Seaways had discontinued its service but he "fully understood" why the decision was made.
He said: "I remain optimistic that there will be a time when a direct passenger service from Fife to Mainland Europe becomes viable."
However, Mr Grant welcomed the company's commitment to its freight route.
He added: "The decision to increase freight capacity underlines the potential of Rosyth as Scotland's gateway to Europe and we will continue to work towards realising that potential."
DFDS Seaways said the combined passenger/freight service, which was relaunched in May last year, had been a "constant loss-maker" and there was "no prospect of the situation changing in the longer term".
It revealed that the route had failed to meet any of its financial targets, had suffered "significant losses" and had achieved only 60% of its expected passenger numbers.
Scotland's Transport Minister Stewart Stevenson said he was "extremely disappointing" that DFDS Seaways had decided to discontinue the route but he hoped the company would keep the decision under review.
Andreas Teschl, from the DFDS Group, said: "We are aware that the ferry service has provided an important link between Scotland and the continent so it is a matter of deep regret that we have had to take the decision to no longer operate passenger services on the Rosyth to Zeebrugge route in the future.
"We know this decision will be disappointing to many people and we would like to thank all those who have supported us, particularly the Scottish government, the travel and transport industry, as well as those passengers who have used the service and will continue to use the service until the end of the year."
Related Internet Links
The BBC is not responsible for the content of external sites.