Lollipop cameras to deter dangerous driving in Glasgow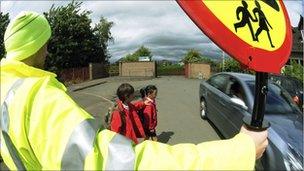 Lollipop men and women at three primary schools in Glasgow are to have their lollipops fitted with cameras.
The "lollicam" initiative was launched at Knightswood Primary following successful tests in England.
Footage captured by crossing patrollers can be used as evidence to help police prosecute careless or dangerous drivers.
The cameras are activated automatically when the lollipop poles are held vertically.
The poles cost between £900 and £1,000 and comprise two high-resolution colour cameras mounted back-to-back on opposite sides of the crossing pole.
The in-built video cameras are controlled and powered from a handgrip unit which is the only visible difference to the structure of the pole.
All footage is stored on a USB card which is removed at the end of each day.
Speaking at the launch, Cordia managing director Fergus Chambers said: "The idea behind the scheme is to deter dangerous or inconsiderate driving in and around school zones.
"Our aim is to replicate the success of the lollicam trials which have already been carried out in places such as Stourport in England, with the objective of gradually incorporating the technology into more of our 390 lollipops in Glasgow."
St Thomas' Primary in Riddrie and Ashpark Primary in Thornliebank will also trial the initiative for six months.
Related Internet Links
The BBC is not responsible for the content of external sites.