Forth Road Bridge cables to be excavated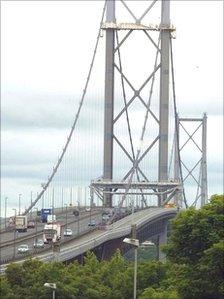 A report has recommended excavations of the Forth Road Bridge's main suspension cables to check their stability.
It was commissioned by the bridge authority which concluded it would be the best way to discover if there was any corrosion.
Engineers said there was no "direct" evidence to suggest the bridge was unsafe in any way.
In May MSPs supported a new crossing, though a final vote has still to take place.
Work to check the anchorages, the concrete filled tunnels which hold the main suspension cables, is expected to start by autumn 2011.
Forth Estuary Transport Authority (Feta) estimate the initial cost of the work will be £7.5m.
The organisation's chief engineer and bridgemaster, Barry Colford said: "Our intention is now to press ahead with the investigation.
"This is the only way to deal with long term concerns over the structural integrity of the anchorages."
Excavations will take place at the south anchorages only, where deterioration is thought likely to be worst as ground conditions are poorer.
Related Internet Links
The BBC is not responsible for the content of external sites.