Edinburgh University sets record for firms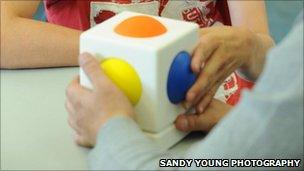 The University of Edinburgh has created a record number of new companies in the past academic year.
The university formed 40 new firms in the 2009-2010 academic year, compared to 26 the previous year.
The institution claimed it was the highest number ever generated by a Scottish university in a single year.
In the last five years, it has formed 131 companies which currently employ more than 300 staff. More than 85% of them are still in operation.
New firms created by Edinburgh Research and Innovation (ERI) - the university's commercialisation arm - include NGenTec, which creates light-weight generators for wind turbines.
The company recently won an £800,000 contract from the UK Department of Energy and Climate Change.
Other new firms include Actual Analytics - which uses video analysis technology to help develop drugs for diseases that affect the central nervous system, such as Alzheimer's and Parkinson's - and Skoogmusic, which produces new musical instruments for children with disabilities.
The 40 firms formed in the past year have together secured more than £3m in funding.
ERI chief executive Derek Waddell said: "As well as the unprecedented increase in the number of companies formed in 2009/2010 by the university, the quality of the companies created is at a higher level than ever and this is testament to the entrepreneurship and creativity of the university's staff and students, and to the excellent support provided by ERI's company formation team.
He added: "Several of the new firms present real potential not only to contribute positively to the Scottish economy, but also to become globally significant - potentially helping to generate further economic growth and new jobs."
Related Internet Links
The BBC is not responsible for the content of external sites.