Calls for RBS protesters to pay Edinburgh policing bill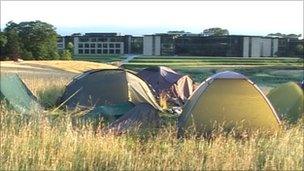 The cost of policing protests at the Royal Bank of Scotland headquarters in Edinburgh should be recovered from the protesters, a city councillor has said.
Iain Whyte, the convener of Lothian and Borders Police board, told the BBC's Good Morning Scotland programme the costs "could be higher than £100,000".
Mr Whyte said that in the short term, he expected the board would have to foot the bill.
That could see the capital's "policing service reduced" in future, he claimed.
On Monday, 12 campaigners were arrested and two RBS branches closed, as activists protested about the bank's oil industry investments.
A total of 18 people have been arrested since last Thursday.
Many staff were encouraged to stay at home after activists smashed windows and threw an oil-like substance at the Gogarburn building on Sunday.
The campaigners claim the bank, which is 84% owned by the taxpayer, is financing developments which could be dangerous to the environment - although RBS said it was one of the most active banks in the world in providing funding for renewable energy projects.
Branches at Nicolson Street and North Bridge, Hunter Square and the fly-over at the Gogar roundabout were the focus of protests, which included camp members gluing themselves to branch doors.
Councillor Whyte said: "We should look at all options, and where there are options to go to the people who have put on the event, where they have not co-operated with the police, where they have deliberately gone out of their way to be disruptive and to do damage to property in the city, we should be seeking to recover costs if that is at all possible.
"Edinburgh is very welcoming as a city but I don't see why the people of Edinburgh and the wider Lothian and Borders should have to have their policing service reduced in future years because some protesters come here and choose to take illegal action."
Climate change protesters have said they plan to leave the Royal Bank of Scotland's global headquarters in the west of Edinburgh on Monday.
About 500 activists spent the night at the camp, set up outside the building last Thursday.
Lothian and Borders Police said there had been no trouble overnight.
Related Internet Links
The BBC is not responsible for the content of external sites.