Fife Council issues plan to beat Leuchars Airshow traffic jam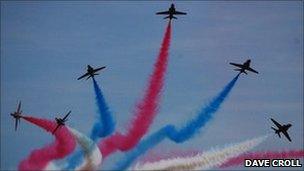 Fife Council has announced its plan to avoid traffic jams at next month's Leuchars Airshow.
Measures include temporary traffic restrictions and three park and ride sites to be set up for the extravaganza on 11 September.
There will also be temporary one-way systems and speed limits imposed in the surrounding area.
Last year thousands of motorists trying to get to the show were caught in huge traffic jams.
A section of Leuchars Railway Station Car Park will be closed with about 90 spaces retained for use by regular rail passengers on the day of the event.
Fife Constabulary said more than 50,000 people descended on the annual airshow in 2009 causing huge tailbacks.
More than 100 aircraft will be on display at the RAF base in Fife for one of the largest airshows in the UK.
The event, which was first held in 1945, is Scotland's biggest military airshow and this year there are planes from seven countries across the world, including Poland.
Related Internet Links
The BBC is not responsible for the content of external sites.