Shows' 'ingenious' film technique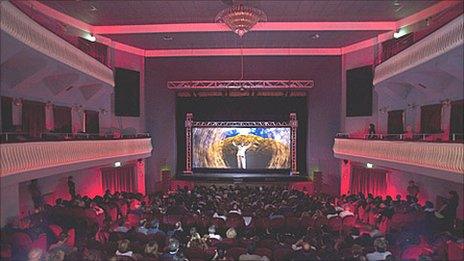 The International Festival's director said two shows he has brought to Edinburgh which use projectors and raw action are not a substitute for cinema.
Jonathan Mills said Sin Sangre and The Man Who Fed Butterflies use an "ingenious" blend of live performance alongside widescreen cinematic images.
The effect leaves the audience wondering who on stage is real and who is a projected image.
The Teatro Cinema shows are from Santiago in Chile.
Mr Mills said the effect on stage was so good, the technique could either make you feel the room was empty or full.
He told the BBC Scotland news website: "It is not a substitute for cinema. It uses film but it absolutely relies on live performance to make it work.
"There is a simplicity that you don't get in cinema. It can strip itself away and then fill itself up again using the cinematic vistas. It plays with scale.
"It is so ingenious and the technique is impeccable.
"People do however get caught up with technology. Technology doesn't get you anywhere. You also have to have something to say."
Sin Sangre, at the King's Theatre from Saturday, uncovers how, as witness to the killing of her father and brother by three armed intruders, Nina is discovered by one of the assassins under a trapdoor.
He decides to spare her life. Years later the two meet again and their shared past uncovers secrets, deceit and vengeance.
The Man Who Fed Butterflies receives its UK premiere on Sunday at the King's Theatre.
It is the second in the trilogy following Sin Sangre and shows how an old man feels the urge to carry out a forgotten ritual taught to him by the only survivor of an extinct and forgotten tribe.
They believed each recently hatched butterfly was the spirit of a dead warrior searching for his kingdom.
Every year at the same time the sacred men stood on a cliff, their arms open, palms covered in nectar, waiting to feed the butterflies as they set off on their annual migration.
The third show in the trilogy is yet to be made.