Offenders to repair Edinburgh gravestones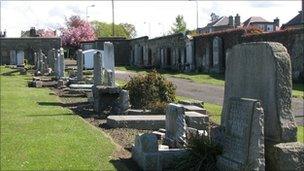 Offenders will be told to fix fallen gravestones in the capital as part of their community service.
The headstones which will be repaired at the city's Liberton cemetery are those where the executors or owners cannot be traced.
The council-organised initiative will see gravestones repaired and fallen stones returned to upright positions.
The justice minister described the work, which will be carried out by low level offenders, as "worthwhile".
Kenny MacAskill said: "Unfortunately, the scene at many cemeteries in Edinburgh, and more widely across Scotland, is one of fallen and broken headstones.
"That is unacceptable, it's a bugbear of many communities up and down the country, and this project will see action being taken to rectify it.
"We've seen low level offenders out clearing paths of snow and ice during last year's bad weather, we've seen them out renovating elderly care homes and we've seen them helping to clean up streets of litter.
"We'll now see them being put to more good use, bringing our cemeteries back to the standard people expect and this is a worthwhile project."
Councillor Paul Edie, community safety leader, said: "There are a number of gravestones in need of repair and this is a fantastic initiative to get low level offenders out to work, improving their skills whilst helping to improve the local community.
"Not only will this project make a real difference to the burial ground but the offenders will also be paying back the local community in a positive and constructive way."
Local resident Alan McKinney said: "I am delighted that the City of Edinburgh Council has taken up this idea and its officials are to be congratulated for their constructive development of the initial proposal.
"I now sincerely hope that other Scottish councils will seriously examine the proposal which I circulated to all councils in 2009."
Related Internet Links
The BBC is not responsible for the content of external sites.