'Home team' pressure of staging two sell-out shows
By Angie Brown
BBC Scotland, Edinburgh and East reporter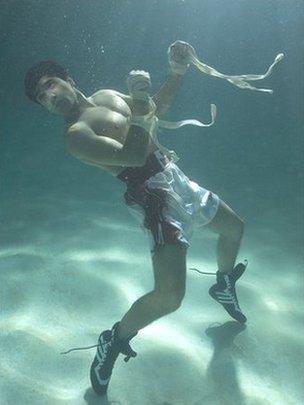 The National Theatre of Scotland's executive producer has spoken of the "huge pressure" of staging two shows in two different festivals in Edinburgh.
Neil Murray said the pressure of being a home company meant that they also had to come up with two world premieres.
Caledonia has been playing in the International Festival while Beautiful Burnout is on at the Fringe.
Together the sold-out shows will be seen by 16,000 people over the Edinburgh Festival and gross £250,000.
Mr Murray told the BBC Scotland news website: "It is really exciting to have two shows in different festivals in Edinburgh playing at the same time because it gives us a reach that no other company has.
"There is a huge pressure though being the home town company to have to do a new show every year, to produce a world premiere each time.
"To compete in such a competitive market is a huge undertaking but we are the home team so it would be crazy not to use the Edinburgh Festival as a platform.
"Having two shows also means we can show our versatility as Beautiful Burnout could not be more different from Caledonia."
Caledonia, which has been playing at the city's King's Theatre, is a story of "greed, euphoria and mass delusion" in which a banker led Scotland towards financial ruin.
The events told in Caledonia happened more than 300 years ago.
Written by Scottish satirist Alistair Beaton and directed by Anthony Neilson, it brings the Darien project to the stage.
Inspired by banker William Paterson, Scotland invested a large proportion of its wealth in setting up a colony in Central America in 1698.
Beautiful Burnout is a story about boxing set in Glasgow and is a collaboration between physical theatre company Frantic Assembly and playwright Bryony Lavery.
It focuses on Cameron Burns (Ryan Fletcher), a talented amateur boxer with a desire to turn professional.
It takes place on a raised stage which has a revolving centre.
Mr Murray said it cost about £30,000 for the set props and costumes for Caledonia and about £20,000 for Beautiful Burnout.
He said: "We are thrilled that 16,000 people will have seen our productions as it is a sizable chunk of our annual audience.
"We never thought we would have two sell-out shows. We are still a young company having only been going for four years so to have this impact and this reach has made us really happy.
"The real challenge for us in terms of Beautiful Burnout was having a cast that an audience could believe were boxers.
"The trouble with sports shows is that the audience often doesn't believe it and we wanted to make it look genuinely real.
"The challenges we faced with Caledonia was finding the right tone for an amazing story that many Scots don't even know about. Having satire in the show when it is a sad story is the controversy about the show."
It took 18 months to produce Beautiful Burnout compared with 10 months for Caledonia.