Virgin Money to base new HQ in Edinburgh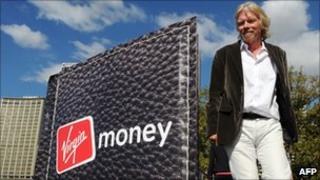 Virgin Money has confirmed plans to base its new operations centre in Edinburgh from next year.
The move will create 200 posts initially, with further jobs expected as Virgin expands into the UK retail banking market.
The company said it had chosen the capital because of its experience in banking and financial services.
The news followed an announcement by banking giant Barclays that it would create up to 600 jobs in Glasgow.
Last January, Virgin Money positioned itself for an assault on the UK retail banking market after buying regional bank Church House Trust.
The company has been based in Norwich since being established in 1995 as a joint venture between the Virgin Group, founded by Richard Branson, and Norwich Union.
It already runs offices in London and Edinburgh, although there are currently only 60 staff in the Scottish capital.
'Fantastic talent'
Virgin Money spokesman Scott Mowbray told BBC Scotland's news website: "Clearly in Edinburgh there is a fantastic pool of talent in banking and financial services and it makes sense to tap into that.
"As we grow to become a fully operational bank, Edinburgh will be the engine of growth for the bank."
He added: "We intend to start staffing up in March/April in order to deliver banking services to our customers later in the year."
Under the Virgin Money brand, the company will use the bank to offer savings and mortgages products.
The Financial Services Authority granted the firm control over a licensed bank in December, 2009.