Edinburgh hit-and-run death teenager jailed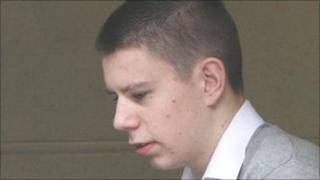 A teenager has been sentenced to eight-and-a-half years in prison after killing a man in a hit-and-run incident in Edinburgh.
Lee Coyle, 17, was convicted of culpable homicide last month after admitting running down Paul Bonnar, 30, in the Inch area in June last year.
Coyle sped off after hitting the father-of-one while driving a stolen car on Walter Scott Avenue.
Unemployed Coyle was sentenced at the High Court in Inverness.
The teenager, who was 16 at the time, struck Mr Bonnar with the car, trapped him under the vehicle and continued to drive over him, causing the fatal injuries.
The court heard that Coyle had been convicted on three previous occasions of driving dangerously.
Passing sentence, judge Lord Matthews said Coyle had stolen a car and later driven it dangerously along Leith Walk and London Road in Edinburgh, weaving through traffic and going through a red light.
He continued: "You were out and about, breaking the terms of a curfew, and you broke into a garage with intent to steal.
"Worst of all you assaulted Paul Bonnar by driving the stolen car at him, knocking him to the ground and then driving over him - in other words, you used the car as a weapon which brought about his death at the untimely age of 30 and practically on the eve of his 31st birthday."
'Untimely death'
He added: "Not content with that you drove off from the scene and later denied all knowledge of the incident when asked who had been driving. As if this were not bad enough you were driving while disqualified and, of course, without insurance."
Det Ch Insp Amanda McGrath, of Lothian and Borders Police, who led the investigation, said: "When Lee Coyle got behind the wheel of that car, he was already breaking the law.
"Nevertheless, he made the cold and callous decision to use the vehicle as a weapon, resulting in Paul Bonnar's tragic death.
"Concern for the safety of his brother was what brought Mr Bonnar to Gilmerton Road where, to his great misfortune, he became caught up in a disturbance that had nothing to do with him.
"His death has robbed a wife of her husband, a daughter of her father and a mother and father of their son, and nothing can repair the damage that Lee Coyle's actions have inflicted upon Paul Bonnar's family."