Boy held over Edinburgh fire incident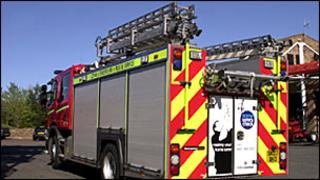 A 15-year-old boy has been charged with attempting to steal a fire engine while crews battled a blaze in Edinburgh.
The fire service said firefighters wearing breathing apparatus suffered verbal abuse and were pelted with eggs by youngsters.
The crews had been called out just after 1300 BST on Sunday to the West Pilton Children's Centre on Ferry Road.
Lothian and Borders Fire and Rescue Service said operations were hampered throughout the afternoon.
The fire was finally extinguished at 1700 BST.
Fire chiefs said the crews came under attack after a group of about 30 youngsters and adults gathered at the scene.
'Totally unacceptable'
A spokeswoman said: "The actions of these youngsters were totally unacceptable and could have had much more serious consequences.
"Crews had to put up with continued verbal abuse and were also pelted with missiles as they tried to get the fire under control.
"Fighting the fire, which had been deemed a chemical incident because of asbestos in the roof, was made much harder because of the unwanted attention and anti-social behaviour of a hard core of young people."
The spokeswoman added it was "particularly disappointing" that adults who were at the scene made no attempt to stop what the youngsters were doing.
Lothian and Borders Police also condemned the actions of the youngsters.
Chief Inspector Denise Mulvaney said: "We are concerned and appalled at this incident and have launched an investigation to identify the other perpetrators of this attack.
"Assaults on any emergency service workers are completely unacceptable, and we will strive to identify and prosecute anyone committing these crimes."