Edinburgh firm Bowleven drilling in West Africa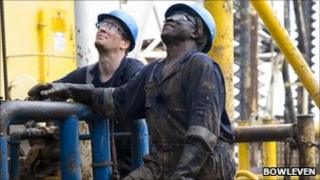 Oil and gas group Bowleven has started drilling at its exploration well off the coast of Cameroon.
The Edinburgh-based firm said drilling operations were taking place at its Sapele-1 well in the Douala Basin.
It is targeting a series of stacked reservoir objectives, from the proven Miocene fairway down to the deeper Cretaceous fairway.
The AIM-listed company said the well would be drilled to an estimated target depth of about 4,450m.
Drilling is expected to take between 70 and 80 days.
'Exciting time'
Bowleven chief executive Kevin Hart said: "This is an exciting time for Bowleven as we embark on exploration activity in the Douala Basin, offshore Cameroon.
"The Douala Basin is an emerging hydrocarbon-bearing province and Bowleven's Cameroon acreage is well positioned to access this opportunity."
Bowleven runs its Cameroon operations through its wholly-owned subsidiary EurOil Ltd.
It also has interests in onshore and offshore blocks in Gabon which are held by its subsidiary FirstAfrica Oil Ltd.
Bowleven is scheduled to announce its preliminary results for the year ended 30 June on 9 November.