Edinburgh City Council agrees to cut 300 jobs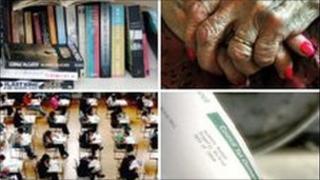 One of Scotland's largest councils has agreed plans to cut at least 300 jobs.
Edinburgh City Council revealed last month it was looking to reduce staffing levels, which account for 40% of its overall budget, to save money.
The local authority has to make at least £90m of savings over the next three years.
Reports that up to 800 jobs could go in a second round of budget savings were not discussed by councillors at the meeting.
So far, Scottish councils have outlined plans for 12,000 job losses in total over the next few years, but the final figure is expected to be higher.
Edinburgh Council said further cuts were possible, depending on decisions made by Westminster and the Scottish government.
Councillors debated a package of measures to save £16m in the first round of the cuts.
The move will affect about 300 staff.
The council is now beginning a major consultation exercise, setting out proposals for further savings.
Recently, Glasgow City Council revealed it was to spend £13m laying off more than a third of its most senior managers.
The council has also earmarked £127m to lay off more than 2,600 workers who have applied for voluntary redundancy or early retirement.