Man jailed in RAF Tornado jet laser pen case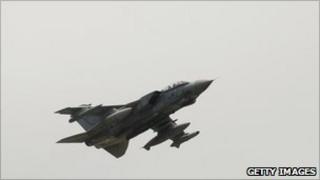 A migrant worker who shone a laser pen at a Tornado jet as it was trying to land at RAF Leuchers in Fife has been jailed for four months.
Fruit-picker Radu Moldovan, 28, from Romania, kept the beam focused on the jet cockpit for up to ten seconds, distracting the pilot and navigator.
Cupar Sheriff Court heard only the skill of the pilot prevented a crash.
Sheriff Charlie Macnair told Moldovan his actions could have had "horrific consequences".
The court heard Moldovan, who had bought the laser pen on eBay for £4, was playing with it at a barbecue with other East European migrants.
He was caught after the navigator of the Tornado got a fix on the source of the intense light and passed the co-ordinates to police.
The source turned out to be Cairnie fruit farm, where Moldovan was temporarily employed as a fruit-picking foreman.
Moldovan was arrested and questioned, and tried to lie that he had just been waving the laser around at random.
Crew distracted
Laura Wright, prosecuting, said the Tornado had been heading towards Leuchars at around 2140 BST on 16 August, 2010.
The pilot and his navigator spotted the laser being shone from the ground at the aircraft - with the light penetrating the canopy - so they contacted air traffic control.
The jet, which was five miles from the runway at a height of about 1,200ft, then attempted to conduct another approach, but the crew were again distracted by the laser beam.
This time the navigator was able to identify the source and mark it using the Tornado's on-board navigation system.
The crew then made an attempt to land, but as the plane was positioning itself it was again hit by the green beam of light.
The pilot continued and landed the aircraft successfully.
Guilty plea
Moldovan, whose address was given as care of the fruit farm, pleaded guilty to culpably and recklessly endangering a military aircraft.
Hilary Eldridge, defending, said Moldovan had "wanted to see how powerful" the pen was.
Sheriff Macnair said: "There has never been a crash caused by laser pens but that seems to be as a result of luck more than anything else.
"Distracting the attention of any pilot, in particular a pilot flying a fast jet, is an accident waiting to happen.
"The consequences of a Tornado crashing at RAF Leuchars raises the most horrific possibilities of death and injury to the pilot, navigator and anyone passing underneath."