Procedural mix-up blamed for moderator omission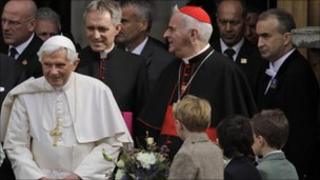 A procedural mix-up has been blamed for the Moderator of the Church of Scotland being omitted from the Pope's official welcome party in Edinburgh.
The Right Reverend John Christie had been due to be part of the line-up to greet Pope Benedict XVI.
However, despite arriving early for the event at about 1100 BST, he found himself unable to join other religious leaders after giving press interviews.
The church said arrangements were made for a private exchange with the Pope.
It is understood that Mr Christie had been issued with a pass to admit his car to the Palace of Holyrood.
'Quickly resolved'
But after giving an interview to the BBC, the Moderator had entered Holyroodhouse on foot where he found himself unable to join the line-up to welcome the pontiff.
In a statement, the Church of Scotland said: "The situation was speedily rectified and arrangements were made for the Moderator to hold a private exchange of greetings with Pope Benedict XVI.
"The Moderator is now looking forward to reading one of the lessons at tomorrow's ecumenical service at Westminster Abbey."
A Scottish government spokesman added: "The situation was quickly resolved when Cardinal Keith O'Brien and the first minister facilitated a public meeting at the palace where the leaders of both churches displayed mutual friendship, affection and respect for each other."