Sheriffs lose pecking order battle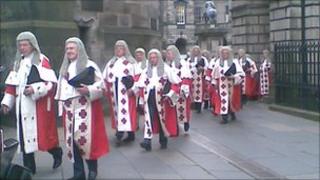 Sheriffs in Edinburgh have lost their battle to rejig the pecking order of a traditional procession which signifies the new legal term.
The row over legal protocol of the annual Kirking of the Judges saw sheriffs boycott Tuesday's ceremony.
Each year, judges, sheriffs, and advocates make their way from the Supreme Court to St Giles Cathedral.
Traditionally advocates follow judges in the walk, but this year sheriffs wanted to move up the rank.
They attend the service to be blessed for the new legal session.
This year the Lord President ruled the status quo should be retained prompting the sheriffs boycott.
The Judicial Office for Scotland's spokeswoman declined to comment.