Diabetes caused Fife pupil's death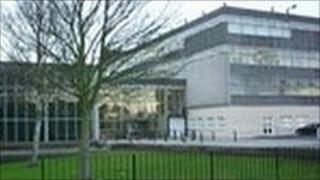 A diabetic Fife teenager who died during a school trip was laughing with her friends moments before she suddenly collapsed, an inquest has heard.
Lauren Murphy, 14, was staying at a London hotel with pupils and teachers from St Columba's Roman Catholic school in Dunfermline when she collapsed.
The fourth year pupil died after being taken to University College Hospital in the early hours of 23 June.
They had spent the evening at Pizza Express followed by a theatre trip.
The group had returned to the Travelodge in Euston Road, King's Cross, at about 2330 BST.
Lauren and her friends had stayed up in the corridor outside their rooms chatting for a while, the inquest at St Pancras Coroner's Court in London heard.
But as she ran back to her room later, she overshot the door, which she and her friends found funny, the coroner was told.
Friend Robyn Jack, 15, told the inquest: "Lauren missed the door so she was laughing.
"That's when she collapsed, when we got back to the room.
"She was laughing and then all of a sudden she made this face and fell."
Blood-glucose
Realising the seriousness of the situation, Lauren's friends quickly alerted teachers, the inquest heard.
Lauren had been diagnosed with Type 1, insulin-dependent diabetes in 2000.
The inquest heard readings from her electronic testing machine indicated her blood-glucose levels had fluctuated widely in the months before her death and the last reading she took, at about midnight, showed it was unusually high at 28.9 millimoles per litre.
A mark on her thigh suggested she had injected herself with insulin as a result.
Recording a verdict of death by natural causes, coroner Dr Andrew Reid said: "It appears that it was with some difficulty that she (Lauren) controlled these blood-sugar levels and that is a reflection of the nature of the disease and no criticism of her or those who cared for her.
"The underlying cause of her death was Type 1 diabetes."
Lauren's parents, Elaine Cowper and Jim Murphy, did not attend the inquest.