Visitors flock to Edinburgh Castle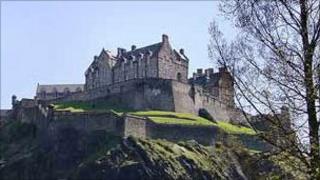 Edinburgh Castle has reported its best August for four years.
There was a 6.1% increase on last year with 190,266 visitors passing through the castle's doors in August.
The castle also had one of its busiest days in seven years with 7,911 visitors recorded on 10 August. Its daily record of 8,047 visitors was in 2007.
Culture Minister Fiona Hyslop said: "Edinburgh Castle is often regarded as a barometer for Scotland's tourism industry."
She added: "Scotland continues to be a must see destination, with both domestic and international visitors growing last year, whilst many other markets have experienced a decline.
"Within this, Scotland's heritage sector has a huge role to play - both culturally and economically, and the appeal of this most iconic of buildings continues to be far reaching - providing a shop window for Scotland to the rest of the world."
Meanwhile, figures released by Edinburgh City Council show the Royal Mile had its busiest ever week during the Edinburgh Festival, with footfall up by more than a third on last year in the first three weeks of August.
Barbara Smith, executive manager for Historic Scotland, which manages the castle, said: "We have had a fantastic August.
"The city is certainly benefiting from low cost flights from Europe, and we are seeing a direct correlation in the origin of visitors at the castle.
"Meanwhile the cruise ship market has certainly increased this year, with more cruise groups visiting the castle than ever before.
"But we have also seen a marked increase in walk up visitors to the castle which is great.
"We are hugely aware that the castle can often be a visitor's first experience of Scotland, so we are focussed on providing a world class welcome and building a platform for demonstrating Scottish hospitality at its very best."