Woman, 102, hurt in Edinburgh flat gas explosion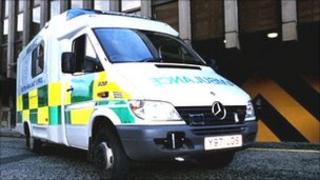 A 102-year-old woman is being treated for burns to her face, arms and hands following a gas explosion in her Edinburgh home.
The kitchen windows of Annie Boyd's Edinburgh flat were blown out after gas from a hob, left on overnight, ignited when a light was turned on.
Emergency services were called to the ground-floor flat in Falcon Gardens just after 0600 BST.
Ms Boyd was taken to Edinburgh Royal Infirmary for treatment.
Her injuries are not believed to be life-threatening.
A spokeswoman for Lothian and Borders Fire and Rescue Service said: "There was a female casualty after a gas explosion and fire.
"The gas hob was left on overnight. The woman turned on a light which caused the explosion.
"The kitchen windows were blown out and the door was blown off its hinges.
"The woman had burns to her face, hands and arms. She was given oxygen therapy until the ambulance arrived."