Soldiers' honours list announced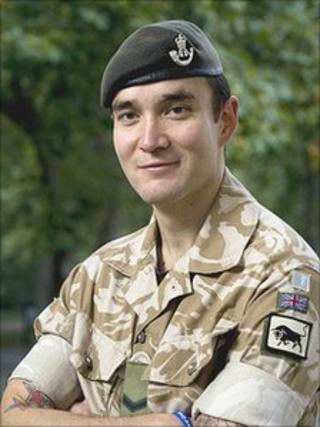 A soldier from Edinburgh who saved his commander from a grenade thrown by insurgents in Afghanistan is to be awarded a medal for heroism.
Lance Corporal James McKie, who grabbed the live grenade and threw it back at the attackers, is to receive the Conspicuous Gallantry Cross.
He was part of the battlegroup which suffered the most fatalities of British fighting units since the Korean war.
He is one of 131 soldiers on the Operational Honours list.
The list, issued on Friday, includes two riflemen who lost their lives during a six-month tour in Helmand province.
On the 3 Rifles tour of duty, from October until April, it lost more lives than any British fighting unit for more than 65 years.
L/Cpl McKie, who previously served in the New Zealand army for seven-and-a-half years, said he would never forget the colour or feel of the heavy, mustard-green, pineapple-shaped grenade.
"There were so many dangerous situations out there, so many times when I could have died. I don't dwell on it," he said.
"For me, the whole tour threw up so many positive things from a professional point of view that I look back on rather than those dark moments."
Stay alive
L/Cpl McKie said he felt "guilty" when he learned of his medal.
He said: "Why me? I did what I had to do to stay alive and to keep my friends alive.
"Why can't they give awards to every single soldier?
"Some people did some great things out there and aren't being recognised.
"But I've come to realise that the medal is a celebration of what we did out there - it's for everyone, it's not just for me."
The 3rd Battalion's commanding officer, Lt Col Nick Kitson, is to be awarded a Distinguished Service Order, for continuous outstanding leadership during a seven month tour which saw 30 members of his battlegroup killed in action and many more injured.
Major Tim Harris, officer commanding of A Company, 3 Rifles, is to be appointed MBE for "inspirational example, humbling courage, tenacity and extraordinary demonstration of leadership in the face of seemingly overwhelming adversity".
Rifleman Gareth Sutherland is to be given a Queen's Commendation for Bravery for "unwavering courage and selfless commitment displayed continually over a six month period".
Other soldiers from 3 Rifles who are to receive awards are Cpl Lee Brownson, who has been honoured a posthumous Conspicuous Gallantry Cross, Rifleman Mark Turner who received a posthumous Mention in Dispatches, Rifleman Harry Lanceley, who is to be awarded a Military Cross, Capt Andy Michael, who received a Mention in Dispatches, 2nd Lt Connor Maxwell, Rifleman Daniel Nickson and Lance Corporal Aselemo Vetanibua, who will all receive Queen's Commendations for Bravery.
Pte Callum Brotherston, of B Company 1 Scots is to be awarded the Queen's Gallantry Medal, for his "amazing calmness" and professionalism when surrounded by injured colleagues in a Taliban minefield in Southern Helmand last winter.
Pte Brotherston, from Mauchline in Ayrshire, took control during an IED (Improvised Explosive Device) incident in the Wishtan area of Helmand.
Maj Graeme Wearmouth, from Edinburgh, who commanded B Company 1 SCOTS throughout their time in Wishtan is to receive a Queen's Commendation for Valuable Service, for his "inspirational" leadership throughout the tour.
Those being honoured are expected to receive their awards later this year.