Spy death walking stick auctioned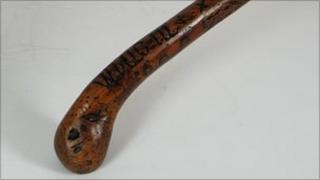 A walking stick used to bludgeon its spy owner to death more than 100 years ago has fetched £1,400 at auction in Edinburgh.
The intricately carved stick once belonged to William Gill, a British spy and multi-millionaire explorer.
However, it was used by a Bedouin tribesmen to murder Gill in the Sinai desert in 1883.
The 39-year-old adventurer was gathering intelligence for the British government at the time of his death.
It is thought he was on his way to cut the telegraph lines between Constantinople and Alexandria when he was killed.
Gill inherited millions and used his fortune to fund his explorations, while at the same time gathering information for his country.
He visited Persia, China, Tibet, India, the Balkans, Turkey and North Africa, keeping detailed diaries of his adventures which he sent to his mother.
He was also awarded the Royal Geographical Society's gold medal for his work as an explorer.