Pakistan flood appeal to build 'Fife Village'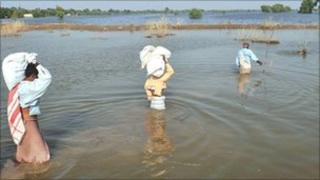 Former prime minister Gordon Brown has launched a £100,000 appeal to build 100 homes for flooding victims in Pakistan.
The Kirkcaldy and Cowdenbeath MP launched the appeal in his constituency to raise money to construct a village which would be named "Fife Village".
Torrential rain began falling in northern Pakistan in July and the floods have since moved slowly south, wiping out villages and farmland.
The project is part of the "Pakistan Flood: Scotland's Response" appeal.
Glasgow Central MP Anas Sarwar, who launched the national appeal, was in Kirkcaldy to help Mr Brown start the Fife appeal.
Mr Sarwar launched "Pakistan Flood: Scotland's Response" on 13 August.
The appeal reached its £500,000 target just two weeks later. The amount raised now totals £750,000.
Much of the money is to be spent on the construction of 600 homes.
Almost 40 homes have already been built and families are expected to begin moving in this week.
A number of other developments are also being built, named Glasgow Village, Edinburgh Village and Scottish Valley.
A further 100 houses are to be constructed in Sindh and 100 more in Baluchistan.
A total of 700 homes are being built as a result of the appeal.
Mr Brown said: "The Pakistan floods are the world's biggest emergency - 60,000 sq miles under water, 20 million people displaced, 14 million in need of emergency health care, six million short of food, two and a half million homeless.
"It is a tragedy whose book of names of lives lost, presumed dead, will never be complete.
"Too many are without help and also without hope. And the worst condition of all is sorrow without hope, pain without end, suffering without relief.
"Our efforts, within Fife, to help the Pakistani nation are to be recognised in a new settlement to be called The Fife Village.
"It will be constructed in Pakistan to recall the fundraising efforts of Fife people through the Pakistan Floods Appeal but this new initiative to permanently thank Fife's people for their help still needs more support."