Abseiling squad fix Edinburgh Castle rock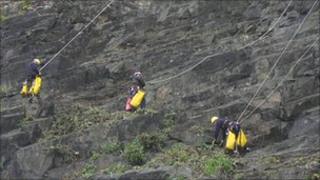 An abseiling team has delayed a routine inspection of the north side of the Edinburgh Castle rock while it fixes the other side following a rock fall.
Six monument conservation staff have been working on the Johnston Terrace side since a rock crashed to the road below in September.
Heavy rain has been blamed for the rock fall which happened on 23 September.
The rope access team should be ready to start its inspection of the north side next week.
The team abseil down the rock face dislodging rocks that have become loose from plants, heavy rain and frost.
An inspection of the entire rock face is completed every five years with different areas of the rock face being tackled each year.
David Storrar, Historic Scotland's Regional Architect said: "Our in-house team are well versed in this type of operation, which is carried out under a strict safety regime.
"The works will be very carefully assessed and monitored on-site by a specialist geo-technical engineer also trained in rope access techniques."