Man admits raping girl, 14, at Fife party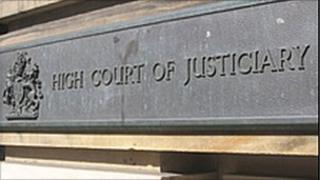 A man has admitted raping a 14-year-old girl while she lay drunk in bed at a party in Fife.
Kevin Swindells, 39, was told by the judge at the High Court in Edinburgh that he faces "a custodial sentence of some length".
Temporary judge Kenneth Maciver deferred sentence until later this month for a risk assessment to be carried out.
Swindells, of Edinburgh Prison, attacked the girl on 1 or 2 May 2009.
Advocate depute Alison Di Rollo told the court Swindells had bought alcohol for a number of youngsters and by 2300 BST the young girl, who cannot be identified for legal reasons, was "extremely drunk".
The court heard the teenager's friends helped her into her pyjamas and put her to bed and when a friend later went to check on her she found Swindells in bed with her.
The court was told the victim's only recollection was opening her eyes and finding Swindells lying on top of her.
She said she was "so frightened" that she neither pushed Swindells away or asked him to stop. The girl could remember him grabbing at her which was "very painful".
Police were contacted after one of the youngsters returned home and told a parent what had happened.
A swab taken from the victim matched Swindells' DNA.
Mrs Di Rollo added that the girl had suffered bruising as a result of the incident and has had problems sleeping since.
She said the girl and her family have found the last 17 months very stressful and difficult to cope with.
The court heard Swindells has 61 previous convictions, almost all for offences such as dishonesty and misuse of drugs.
He was jailed for 15 months in 2003 for assault but has no convictions for sexual crimes.
Defence counsel Matt Jackson reserved mitigation until Swindells is sentenced.
Lord Maciver said: "Your past record of criminal offending including a significant previous conviction for assault added to the particular circumstances of what is obviously a despicable crime makes this a case in which I will be required to consider the imposition of a custodial sentence of some length."