Former Edinburgh boxer Carlin jailed for drug dealing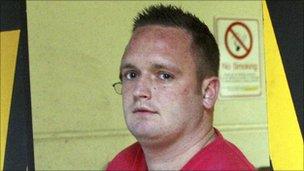 A former Edinburgh boxer at the centre of a major cocaine trafficking network, infiltrated by under-cover detectives, has been jailed for nine years.
James Carlin, 24, was caught when detectives fooled Carlin into believing they were big-time criminals.
Earlier, a jury at the High Court in Edinburgh found him guilty of being involved in the supply of cocaine between January 2007 and February 2009.
Police found receipts to support Carlin had an ostentatious lifestyle.
The court heard how the officers treated Carlin to a meal, alcohol and invited him to share a private box at Murrayfield Stadium for an exhibition football match between Hibs and Barcelona as part of their attempts to win his confidence.
An earlier trial heard how he bragged to undercover police about being able to supply cocaine.
They found paperwork linking Carlin to a £2,277 four-night trip to Las Vegas and thousands of pounds worth of spending money.
Carlin had also paid almost £900 for a trip to Manchester to watch Man City play Arsenal.
Other purchases included a £990 designer handbag from a Louis Vuiton shop in Edinburgh's Multrees Walk, just before Christmas 2007, a present for his girlfriend, and an Armani hooded top bought for £97.50 on Christmas Eve 2008.
Carlin had also gone to Optical Express in Princes Street, Edinburgh, in January last year and paid over £3,190 for laser surgery.
Judge Kenneth Maciver said the sentencing marked the final chapter of Operation Domino which had already put nine men from the Edinburgh area behind bars for a total of 38 years.
The undercover sting also led, directly or indirectly, to the seizure of drugs with a street value of more than £200,000.
The judge said drug dealing brought misery, crime and family breakdown to the addict victims of drug dealers but large sums of money to the traffickers.
Lord Maciver said: "You have to be regarded as being at the controlling centre of this particular drug dealing operation.
"The others had sometimes been feeding their own habits and none had showed signs of significant gain.
"You, on the other hand, have exhibited over the period these charges are concerned with, very clear and obvious, indeed on one view ostentatious, signs of gain which were very much part of the crown case."
Solicitor advocate Vincent Belmonte, defending, said Carlin still protested his innocence so there was little he could say.
Related Internet Links
The BBC is not responsible for the content of external sites.