Edinburgh's WWI story goes online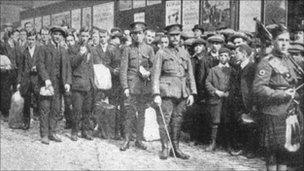 The story of Edinburgh's contribution to World War I, including accounts of Girl Guides helping M15, has gone online.
The archive shows how Serbian refugee boys were educated at George Heriot's School and how soldiers were taught to cook at James Gillespie's High school.
The Edinburgh University archive shows how ordinary people helped win a war.
Researchers have been working with Edinburgh City Libraries, historians and community groups to compile it.
Businesses, clubs and voluntary organisations have made their records available for inclusion in the archive.
The archive also documents the visit of Canadian Expeditionary Force soldiers from the Six Nations Reservation in Canada led by Chief Clear Sky, who requested that part of their duty took place in Scotland.
The delegation were so impressed by the hospitality shown to them by the people of Edinburgh that they raised money for the Red Cross in Scotland and sent money to build veterans homes.
A key part of the project is the drawing up a full roll of honour for the city's war dead.
It is hoped that the use of the Commonwealth War Graves Commission database, newspapers and memorials from churches, schools, clubs and businesses will help to create an accurate roll.
The Royal Scots, the city of Edinburgh's regiment, lost 10,000 men.
Other highlights include accounts of the sacrifices made by the city's sports clubs, including its rugby teams and the footballers of Heart of Midlothian and Hibernian.
The Port of Leith's significant contribution is also highlighted, as is the role played by the city's six hospitals for war wounded.
Yvonne McEwen, honorary fellow at Edinburgh University's centre for the study of the two world wars, said: "There has been a phenomenal response to this project so far with many of Edinburgh's major institutions opening their archives for the first time.
"What has emerged are some fascinating untold stories.
"We are hoping that more organisations will come forward so we can continue to build this picture of Edinburgh, Leith and the Lothians during World War I."
The university plans to expand the archive to cover other cities in Scotland in the lead up to the 100th anniversary of the start of the war.
Related Internet Links
The BBC is not responsible for the content of external sites.