Paedophile teacher faces life in jail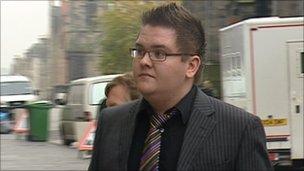 A 23-year-old teacher from Fife who admitted a string of sexual offences against boys could face life in prison.
Andrew Oliver Kingsley, from Dunfermline, committed 31 offences against 16 children as young as 12 over four years from August 2006.
The probationary teacher at a secondary school in Fife was remanded in custody and is due to return to the High Court in Edinburgh in the New Year.
The abuse took place in locations in Fife, Glasgow, Ayrshire and London.
Judge Lord Pentland warned him that he was considering a life sentence due to the highly disturbing circumstances of his case.
Police were alerted after the parents of a 12-year-old boy found explicit texts on their son's mobile.
His father told BBC Scotland: "He lost a lot of his childhood after that. His innocence. The first thing I thought of was revenge, but there's no point in that.
"He was so cunning, he was so nice. He introduced us to his parents, who were a nice couple.
"It was the cunningness that got to me, humiliating my son, myself, my wife."
And he added: "I still get upset, I'll never forget it."
Kingsley, who was known as Olly, worked at the Fife school for five months until his arrest in December 2009.
As a graduate of the Royal Scottish Academy of Music and Drama, he had also been involved in a number of youth theatres.
Kingsley had been through all the relevant disclosure checks.
Fife Constabulary said Kingsley made extensive use of the internet to befriend children conducting "virtual" conversations online via social networking sites to seek out his victims and gain their trust.
He would then commit sexual offences against them, including grooming and serious sexual assault.
Police officers recovered more than 3,400 chat logs from Kingsley's computers, with many of the conversations of a very sexually explicit nature.
Pornographic photographs and video footage were also seized and his mobile phone had a large amount of text messages containing sexualised chat.
The chairman of one youth theatre where Kingsley volunteered said: "I feel hurt and embarrassed.
"When we were first informed of this it was just stunning and shocking."
He said Kingsley had come across as "a very bubbly sort of character" with a "very nice personality".
He added: "It's just horrendous.
"I hate him. I hate him for what he has done, for what he has put kids through."
Garry McEwan, a senior investigating officer with Fife Constabulary, told BBC Scotland: "Andrew Oliver Kingsley is without doubt a predatory sex offender who would target vulnerable boys within Fife and elsewhere solely for the purpose of engaging and abusing them sexually.
"He has spread his wings beyond Fife into neighbouring forces, but also we have evidence of him travelling down to London to abuse a young boy.
"This is a school teacher who abused his position and the trust that comes with being a school teacher.
"He managed to get unrestricted, unsupervised access to children, which is particularly disturbing. He is a disturbing individual."
Area procurator fiscal David Green said that securing an early guilty plea had spared Kingsley's victims the trauma of having to give evidence in court.
Related Internet Links
The BBC is not responsible for the content of external sites.