Scientists make malaria discovery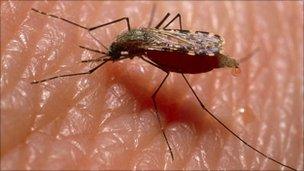 Scientists in Edinburgh have discovered a gene in the malaria parasite, which enables it to develop resistance to certain drugs.
Resistance to the plant-based remedy, artemisinin, potentially creates problems in controlling malaria.
Researchers at Edinburgh University hope the identification of the gene could help control the development of resistance to the drugs.
In 2008, malaria caused almost one million deaths, mostly in Africa.
Scientists, helped by colleagues at the New University of Lisbon, used technology to scan the genetic fingerprint of drug resistant parasites which infect rodents.
The study, published in BMC Genomics, was funded by the Medical Research Council.
Dr Paul Hunt, from the University of Edinburgh's School of Biological Sciences, said: "This knowledge from rodent malaria parasites opens up new directions that will allow this gene to be investigated in human malaria."
There are estimated to be between 300 and 500 million cases of malaria each year, occurring in over 90 different countries, according to the World Health Organisation (WHO).
Related Internet Links
The BBC is not responsible for the content of external sites.