Author JK Rowling voted UK's most influential woman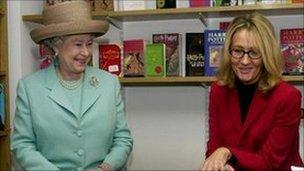 Harry Potter author JK Rowling has been voted Britain's most influential woman by a panel of magazine editors.
The 45-year-old writer beat the Queen into third place, ahead of celebrity fashion designer Victoria Beckham.
The list was compiled to mark the centenary of the National Magazine Company.
Chief executive Arnaud de Puyfontaine said the author was chosen for her "writing skills, tenacity to succeed and philanthropic nature".
He said: "The UK is home to an incredible amount of inspirational women and we are lucky enough to have worked with a significant number of them through our various publications over the years."
Ms Rowling created her first books about the young wizard Harry Potter in Edinburgh.
She recently donated £10m to set up a new multiple sclerosis research clinic in the city. Her mother Anne had the disease and died at the age of 45.
The National Magazine Company publishes 20 magazines including Good Housekeeping, Country Living, Men's Health and Cosmopolitan.
Related Internet Links
The BBC is not responsible for the content of external sites.