Surgeons creating new ears for girl from Trinidad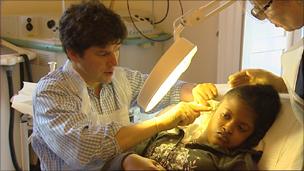 A team of medics in Scotland is creating new ears for a 15-year-old girl from Trinidad.
Kade Romain was born without ears and missing part of her ear canal, leaving her partially deaf and facing a future begging for a living.
The medical team from the Spire Murrayfield hospital in Edinburgh has given its time for free to construct new ears so that she faces a brighter future.
Kade came to Scotland after meeting Robina Addison, a Scottish dance teacher, who was visiting the orphanage Kade was living in.
"I fell in love with her the first time I saw her because she was such a character," Ms Addison said.
Because she was born without ears, Kade couldn't go to mainstream school and was attending a day care unit for children who are mentally handicapped.
"I would liken it to a sanatorium here 40 or 50 years ago," Ms Addison added.
Inspired to act, she organised a temporary visa for Kade to come to Scotland for a very unusual operation.
Ken Stewart, one of the UK' s top experts in ear reconstruction, said: "We're hoping to produce an ear which is a very reasonable image of a natural human ear.
"At a conversational distance it wouldn't be obvious that it's a reconstructed ear."
Mr Stewart will construct two new ears for Kade, and she'll be fitted with a hearing aid to restore her hearing.
"One in 6,000 children are born with at least one missing ear," he said. "We also do it regularly for people who lose their ears through trauma or through skin cancer."
The surgery is normally carried out on the NHS but as Kade is a foreign national she doesn't qualify for free healthcare.
Instead the Spire Murrayfield hospital offered its facilities and the surgical team worked for free.
In a seven-hour operation, Mr Stewart constructed the first ear, with cartilage taken from Kade's rib-cage.
He trimmed this into the shape of an ear to insert under a flap of skin where her ear should be.
Unused cartilage was chopped up and inserted back into the cavity in Kade's ribcage, where it will re-form into its original shape.
In a few months the other ear will be constructed. A week after the first procedure Kade was already having the stitches taken out.
"She took it all in her stride," said Robina. "It has gone through my mind, am I doing the right thing, but Kade so desperately wanted ears.
"She's the one who made the decision and this time next year she'll be a new person."
In between her visits to hospital Kade is going to school and learning to read and write.
When she returns to Trinidad she hopes to become a hairdresser or work in a bank. She's already bought her first pair of earrings.
Related Internet Links
The BBC is not responsible for the content of external sites.