Charity gift of blind girl's fund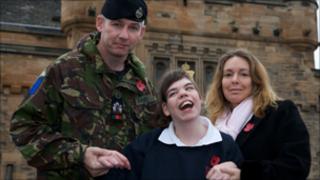 Money raised through an appeal to secure a place for a girl at Edinburgh's Royal Blind School will be shared among four charities.
It comes after the Ministry of Defence and City of Edinburgh Council stepped in to fund her place.
A charity appeal by her father collected more then £20,000 to help Ciara McGearey, 13, who was left blind by meningitis.
About £12,000 pounds will shared among charities chosen by the family.
ISEA (Independent Special Education Advice), Royal Blind, the Royal Tank Regimental Association and the Royal British Legion Scotland's Travel Aid scheme will all benefit.
Ciara's father Mac McGearey, who is due to be deployed on a six month tour of Afghanistan, said: "We want to thank everybody who supported us.
"We were overwhelmed by everyone's kindness. Ciara is enjoying school and she is coming on leaps and bounds."