Former MP Jim Devine 'bullied' office manager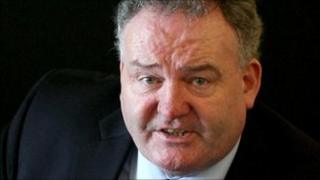 An employment tribunal has ruled that a former Scottish MP bullied and harassed his office manager out of her job.
The tribunal heard that former Labour MP Jim Devine made up stories about Marion Kinley, including that she was a gambling addict being investigated for fraud.
Ms Kinley was awarded a total of £35,000 in compensation.
Mr Devine also faces charges of falsely claiming Westminster parliamentary expenses, which he denies.
Ms Kinley, 47, from Glasgow, won claims for breach of contract and unfair dismissal after the hearing in Edinburgh.
Judge Jane Porter said: "The claimant showed great fortitude through her employment during which it can only be said the claimant was subjected to a course of bullying and harassment by the respondent."
'Hoax' message
Ms Kinley told how Devine had persuaded a friend to call her pretending to be a journalist looking into MPs expenses. When she contacted Mr Devine about a message she received in March 2008, he said he would sort it out.
But she told the tribunal that he got back to her, Mr Devine claimed that a paper was preparing to print an article with full details of Ms Kinley's salary, and that they would be claiming that Ms Kinley was having an affair with Devine.
A day later, Ms Kinley said she discovered that the whole incident had been a hoax.
She wrote a letter of grievance to Mr Devine and was signed off work sick and later resigned.
Ms Kinley told the tribunal that Mr Devine had tried to settle matters by paying her three months wages, but that he also told other staff members that she had a gambling addiction.
Mr Devine, who had been MP for Livingston, did not attend the hearing.
The tribunal found in favour of Ms Kinley on all counts.