Police urge vigilance over phone scam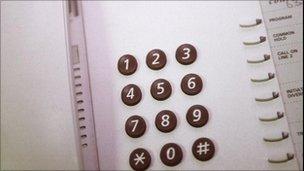 Lothian and Borders Police are urging the public to be vigilant to an ongoing phone scam.
Detectives said they had received a number of reports where members of the public are contacted by people claiming to be from a computer software company.
The callers offer to fix computer faults and direct their victims to a website that allows remote access to their pc's.
This allows access to an individual's files and sensitive information.
Lothian and Borders police are urging the public to refuse this service and report any such calls.
A police spokesman said: "Criminals will look to profit from any opportunity and it's essential that our communities don't make themselves an easy target.
"Never allow anyone you do not know or trust access to your computer or anywhere else where you may store sensitive data and never give out any personal information online to companies where you are not entirely confident in their authenticity.
"This scam is not just localised to the Lothian and Borders Force area and we are currently liaising with colleagues in the Canadian authorities, where similar crimes have been recorded.
"Anyone with information that can assist us with these inquiries is asked to contact police immediately."
Related Internet Links
The BBC is not responsible for the content of external sites.