Former Lloyds TSB bank shareholders hold protest meet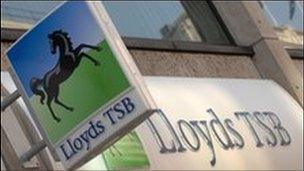 Shareholders in the former Lloyds TSB bank who lost money when it merged with Halifax Bank of Scotland are to hold a protest meeting in Edinburgh.
More than 20,000 Scottish private investors have been contacted by organisers Lloyds Action Now (LAN).
LAN is currently suing the government and Lloyds directors, claiming private and institutional investors together lost an estimated £14bn.
The meeting is part of a series planned across the UK in the coming week.
Private investors will gather on Monday evening at the MacDonald Roxburghe Hotel in Edinburgh to hear from organisers about the campaign and details of the legal case from lawyers acting for LAN.
The association contends that when the merger was recommended by the board of Lloyds two years ago, it failed to disclose a £25.4bn hand-out to HBOS by the Bank of England to save it from folding before the merger could take place.
Lloyds has argued that it gave shareholders "thorough and appropriate" information.
Out of the £14bn LAN claims shareholders lost, the association says private investors took a hit of £2bn.
Related Internet Links
The BBC is not responsible for the content of external sites.