Work starts on capital's first council homes in decades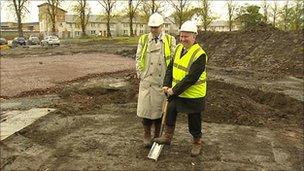 Work has begun on the first council housing in Edinburgh in a generation.
Housing Minister Alex Neil cut the first sod of earth from the Gracemount site where 215 council homes will be built.
They are being developed by the Edinburgh-based firm Cruden Group. Three high rise flats previously stood on the site.
The homes are being built by the city council, backed by £7.5m of Scottish government funding.
A total of 99 homes will be built in the first phase of the development.
Of these, 67 will be for rent from the council - which will be available next winter - and the rest will be for shared equity sale or mid-market rent.
This development is the first time council houses have been built in the capital in 30 years.
The government are funding 280 homes in total; 67 in Gracemount and the remainder in other parts of the city.
The council said it aimed to build 1,300 mixed tenure homes for sale and rent across the capital over the next eight years.
Councillor Paul Edie said: "This is an exciting time for residents in Edinburgh as they can now see our new council homes taking shape.
"I'm confident these modern homes will set the standard for other councils across Scotland to follow."
Mr Neil said it was a historic day for the city.
However, the director of Shelter Scotland, Graeme Brown, said the new homes were a drop in the ocean compared to the number needed to tackle council housing waiting lists.
"While the 280 new council houses in Edinburgh are a welcome move forward and great news for those people lucky enough to get them, the total planned across Scotland is still very low - just 3,300 against a backdrop of 160,000 households stuck on waiting lists," he said.
Related Internet Links
The BBC is not responsible for the content of external sites.