Head-butt RAF airman avoids jail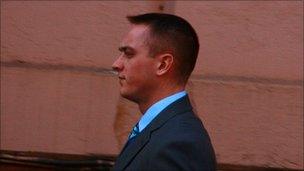 An RAF airman who harassed a group of church volunteers before head-butting a passerby has avoided jail.
Cupar Sheriff Court heard that Jack Pugh, 24, had been drinking heavily before the incident, at a taxi rank in St Andrews on 26 September.
Sheriff William Summers described the attack as "disgraceful" and told Pugh he was lucky not to be going to prison.
He fined Pugh £600 and ordered him to pay the man he had head-butted £250 compensation.
The court heard that Pugh had been out with members of his unit from RAF Leuchars when he "became aggressive" towards a group of Christian Aid workers who were handing out bottles of water.
When passerby Daniel Pow attempted to calm Pugh, he was head-butted by the accused.
Fiscal depute, Laura Wright said: "The complainer became aware of the accused becoming aggressive towards the Christian Aid workers.
"He asked the accused what he was doing.
"The accused turned and head-butted the complainer, causing him to fall to the ground."
Police officers, who were standing about 30 yards (27 metres) away, witnessed the attack.
Pugh pleaded guilty to assaulting Mr Pow in Bell Street, St Andrews, by head-butting him to his injury.
Douglas Williams, defending, said Pugh was "not proud" of the attack.
He added: "Matters have been taken in hand at the air base.
"He works in an RAF regiment which deals with the protection of the base, and is due to go to Afghanistan in April 2011.
"Due to that training regime, he doesn't have as much free time as in the past, and arrangements have been put in hand to curb his leave.
"All that suggests that they have put in place a regime whereby this sort of thing shouldn't happen again."
Related Internet Links
The BBC is not responsible for the content of external sites.