Family's sculpture revealed as work of Vacchetti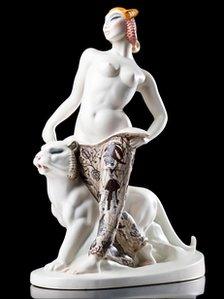 A sculpture which sat in the living room of an Edinburgh home has been confirmed as a the work of the Italian designer Sandro Vacchetti.
The figure, a half-naked woman leading a tiger, was affectionately known by its owners as 'Buttercup and Daisy'.
But specialists have confirmed it as Le Due Tigri - The Two Tigers, which Vacchetti made in Turin 80 years ago.
Its true identity emerged when the owner took it to an auctioneers for valuation. It is worth up to £10,000.
Ceramics experts from Bonhams auction house in Edinburgh were so surprised they sent it to specialists in London, who confirmed it was the work of Vacchetti.
It is now set to be offered for sale at Bonhams "Design from 1860" auction in London on 17 November.
Mark Oliver, Bonhams' director of 20th Century decorative arts, said: "When I heard I was to receive a sculpture from Scotland called 'Buttercup and Daisy' I imagined two Highland cows.
"I was delighted when it turned out to be such a stylish example of Vacchetti's work."
The piece was manufactured by the Lenci ceramic company in Turin about 1930.
Vacchetti, who was born in 1889, was a key figure in 20th Century Italian ceramic design.
His work for Lenci and subsequently at his own company, Essevi. He died in 1974.
The statue's owner wishes to remain anonymous.
Related Internet Links
The BBC is not responsible for the content of external sites.