Bus driver targeted by laser pen in Kirkcaldy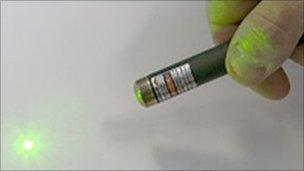 Police are investigating an incident in which a bus driver was dazzled by a laser pen in Kirkcaldy.
The Stagecoach bus was carrying passengers when the incident happened at about 1955 BST on Monday.
Police said a high power laser pen had been shone into the front of the bus from the side of the road.
Fife Constabulary said there had recently been a number of incidents in which drivers had been targeted by laser pens.
PC Craig Stirling, Safer Transport Liaison Officer, said: "Young people are reminded these items are not toys and if used like this the consequences could be serious.
"The potential for serious injuries or fatalities means that any person responsible for this type of crime will be robustly dealt with."
Sarah Longair, operations director at Stagecoach East Scotland, said such incidents could be "extremely dangerous".
She added: "We are fortunate so far that no serious injuries have been caused but it is vital that youngsters realise the risks and understand that action will be taken for the use of laser pens in this manner."
Related Internet Links
The BBC is not responsible for the content of external sites.