Wristband aims to boost vitamin D levels in children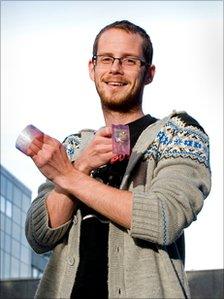 A university graduate has designed a wristband which aims to help children get the right dose of UV light to boost their vitamin D levels.
Andrew O'Dowd came up with the idea as part of his postgraduate course in Interaction Design at Edinburgh Napier.
The Sunpoints wristband monitors the amount of UV light a person is exposed to and gives them a signal to go indoors once they have had enough.
Vitamin D is necessary to allow for the absorption of nutrients and minerals.
Although we can absorb Vitamin D through food, the vast majority (90%) of our Vitamin D needs come directly from sunlight.
Andrew, who graduated with his Masters last week, said: "I designed the Sunpoints device to help educate young people about healthy living.
"I found a recent survey where 50% of people surveyed said their child spent less than two hours per day away from technologies such as computers and games consoles.
"I found this quite shocking but took inspiration from this research for my design."
He said the wristband was aimed at teaching young people about the importance of vitamin D, while also encouraging them to get outdoors and into the fresh air.
"We all know that sunshine is good for us in moderation - it makes us feel good - but consideration should always be taken to ensuring that we're appropriately protected," he added.
"That's why the wristband has a sensor that changes colour when the wearer has had enough UV light."
Feedback from a design competition Andrew ran in a local children's hospital influenced the final design.
A prototype wristband has been made and tested and is in the early stages of being taken to market.
Chris Hand, programme leader for MDes Interaction Design at Edinburgh Napier, said: "We encourage our students to combine the creative and the technical, while also thinking about how their designs might have a practical application in the real world.
"Andrew's SunPoints wristband addresses a very topical issue, and illustrates how design can take on an important social challenge like changing the behaviour of young people.
"It will be interesting to see how the product is developed and brought to market."
Related Internet Links
The BBC is not responsible for the content of external sites.