Instant scans to give doctors extra insight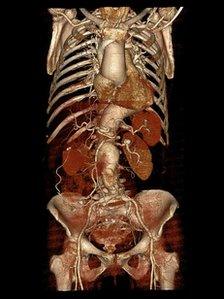 State of the art scanners at a unique £20m facility in Edinburgh will be used to improve diagnosis and treatment of illnesses, it has been announced.
The scanners will help doctors study the causes and spread of diseases and assess their impact on the body.
The Clinical Research Imaging Centre, the first of its kind in the UK, is due to be opened by The Duke of Edinburgh.
The centre is a collaboration between the University of Edinburgh and NHS Lothian.
It is based at the university's Medical Research Institute, in the Little France area of Edinburgh.
The scanners will allow investigations to take place without invasive procedures - reducing the need for biopsies or angiograms, where catheters are used to identify vessel and organ damage.
Experts will use the imaging equipment to scan organs in under a second and to see in great detail how they function.
They will also be able to track the flow of blood through vessels, for instance in the heart, determine the spread of disease and assess the effectiveness of new drugs treatments.
The centre features a high strength magnetic resonance imaging (MRI) scanner, which can safely identify abnormalities in tissues, whether in the developing foetus in the womb or in old age.
The world's most advanced computerised tomography (CT) scanner is able to scan entire organs such as the heart or brain in less than a second.
A CT-positron emission tomography (PET/CT) scanner can identify the spread of cancer using tracers created by a cyclotron and radiochemistry laboratories on-site.
Novel tracers will be produced to investigate inflammation in tissues - a key factor in heart and lung diseases as well as changes in the brain in diseases such as multiple sclerosis and Parkinson's disease.
Professor Edwin Van Beek, director of the Clinical Research Imaging Centre, said: "There have been dramatic advances in imaging over the past decade, changing the way we look at disease and our understanding of the biological processes involved.
"As opposed to simply looking at the structures of the body - such as the heart and the brain - we can look at how organs are functioning in real time.
"This will not only help us better understand disease but it will help us to improve both diagnosis and treatments."
Head of Research and Development for NHS Lothian, Professor David Newby, said: "This world-leading new centre brings together the very latest imaging technologies in a single facility.
"With the University of Edinburgh's world-leading clinical research, this will allow a major improvement in our ability rapidly to investigate and understand the most serious and distressing diseases in our patients."
Related Internet Links
The BBC is not responsible for the content of external sites.