Ban for drink driving Lothian sheriff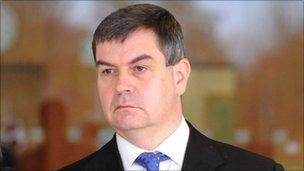 A West Lothian sheriff who resigned from his job after admitting a drink driving charge has been banned for two years and fined £650.
Sheriff Robert Anthony, 48, from Uphall, was reported to the police by another motorist following his "suspicious" driving on 30 September.
Livingston Sheriff Court heard Anthony had depression and had been drinking on the birthday of his late father.
He was caught on the M8 between Newhouse and Harthill, Lanarkshire.
Police officers recorded 92 microgrammes of alcohol in 100 millilitres of breath. The legal limit is 35.
Anthony also admitted driving in his Lexus on roads between the M8 and Uphall, West Lothian, while over the limit on the same occasion.
The father-of-three, who was appointed to the bench less than three years ago but resigned as soon as he was caught, spoke from the dock only to confirm his name and guilty plea.
He was represented by Paul McBride QC.
Visiting sheriff, Kenneth McGowan, told him it was inevitable he would lose his licence.
Area procurator fiscal Adrian Cotton, prosecuting, said the police traced Anthony to his home in Uphall and took him to Livingston police station.
Mr McBride said Anthony, who had "served with distinction" as a sheriff in Glasgow for three years and as a temporary sheriff before that, had been "humiliated" by the incident.
He said: "Any punishment would be dwarfed by how he has been affected by the loss of his job.
"We received a report in which Mr Anthony admits he has suffered from a form of depression for many years, relating to the death of his father which happened when he was only a young man.
"He admits he went for a drink after he finished work that day.
"This is difficult and humiliating for him but he doesn't expect to be treated differently to anyone else."
Anthony, who earned £128,296 a year as a sheriff, was suspended from duty in his Glasgow courtroom after he was charged, and resigned with immediate effect.
Anthony became a solicitor in 1984 and was admitted to the Faculty of Advocates in 1988.
He became a QC in 2002 and served as an advocate depute and a senior advocate depute, prosecuting in the High Court, from 2001 until 2004.
He was appointed as a part-time sheriff in July 2005 and was also a commissioner for the Scottish Criminal Cases Review Commission. He was appointed as a full-time sheriff, in November 2007.
Related Internet Links
The BBC is not responsible for the content of external sites.